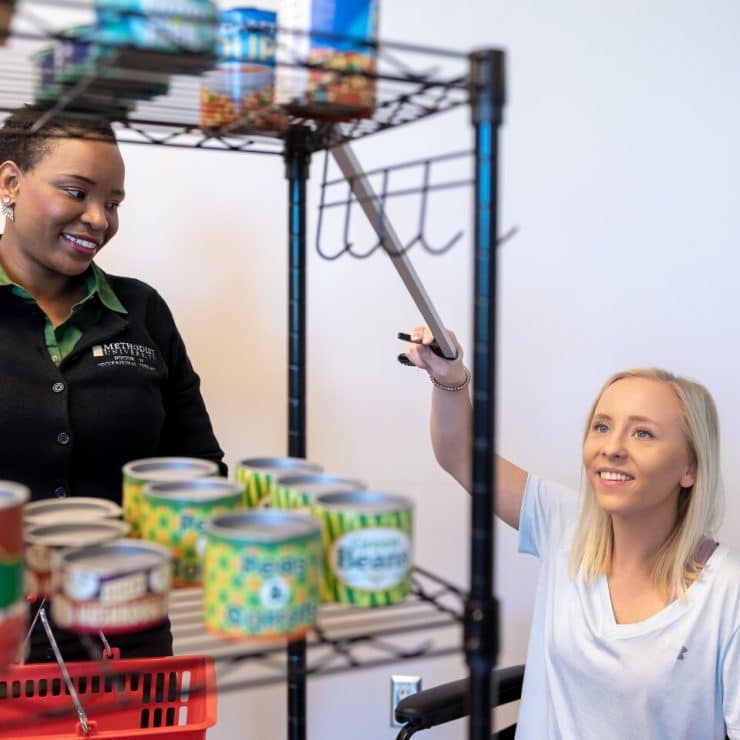 Occupational Therapy (OTA)
Occupational Therapy is a client-centered health profession that promotes health and wellbeing through the nature of occupations. Through evidence-based practice and meaningful activities, occupational therapy practitioners, improve the health and wellbeing in anyone, regardless of age or health status, to get back into everyday life. As a profession, we view each person holistically and through assessments, planning, intervention, cooperation, and collaboration, occupational therapy assistants support individuals with disabilities, injuries, illnesses, or other barriers to daily life task performance, learn how to function in their homes, schools, workplaces, and communities.
Message from the Program Director
Here at Methodist, we are developing a new Bachelor of Science degree of Occupational Therapy Assistants. This is brand new for the profession of occupational therapy and we couldn't be more excited.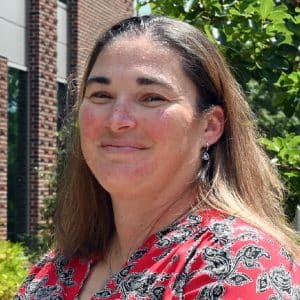 Methodist is committed to maintaining a low student to faculty ratio so that students can experience tailored mentoring throughout the program. Not only will each student participate in immersive fieldwork experiences, but students will also complete a baccalaureate project that can be tailored to a student's individual interest. With our dedicated faculty, evidence-based curriculum, innovative teaching methods both in the clinic and in the classroom, graduates will leave MU with the knowledge and skills necessary to become clinical leaders who will shape the future of the profession. The OTA program aims to deliver a high-quality educational experience to ensure that our students become competent entry-level practitioners.
We invite you to navigate around our website to learn more about the OTA program, and we look forward to helping you achieve your professional goals and aspirations at Methodist University!
Melissa Gibson, DHA, COTA/L
OTA Program Director & Assistant Professor
Bachelor of Science, Occupational Therapy Assistant Program
Interesting in studying to become an Occupational Therapy Assistant?
Get started by applying to MU today!
Common Career Paths
The Occupational Therapy Assistant program prepares students for careers as occupational therapy assistants, a growing field in North Carolina and across the United States. In 2020, there were more than 43,300 occupational therapy assistant jobs in the country. The largest employers of occupational therapy assistant were in the following fields:
Offices of physical, occupational and speech therapists (45%)
Nursing care facilities (17%)
Hospitals (16%)
Home health services (7%)
Educational services (5%)
Overall employment of occupational therapy assistant is projected to grow 34% from 2020 to 2030, much faster than the average for all occupations. Approximately 8,800 openings are projected for occupational therapy assistants each year over the next decade.
Common Salary Ranges for Graduates
As mentioned above, there's a long list of career opportunities for those with an Occupational Therapy Assistant degree. The U.S. Bureau of Labor Statistics reports the average annual salary for the following positions in North Carolina in 2021:
Occupational therapy assistant: $66,100
Occupational therapy aide: $41,510
Average Tuition Cost
The average cost for an incoming residential freshman to attend MU is less than $18,000 – similar to the cost of attending one of the big-box public schools, but with the enhanced value of a highly-regarded private school with a 12:1 student-to-faculty ratio. The Tuition and Fees total cost depends on whether a student is residential (living on campus) or a commuter (living off campus) and whether or not the student purchases a meal plan.
While tuition varies, depending on a student's financial aid package, it's important to know that the average financial award for an incoming residential freshman at MU is more than $34,000.
Financial Aid & Scholarships
More than 97% of MU students receive some form of financial aid, with the University offering more than $24 million annually to students for scholarships. If a student is active military, family of active military, or a veteran, they may also qualify for MU's military education benefits.
Contact
OTA Program Director; Assistant Professor of Occupational Therapy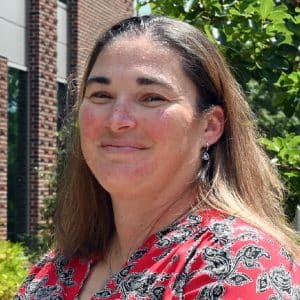 Frequently Asked Questions
The biggest differences between an Occupational Therapist (OT) and Occupational Therapy Assistant (OTA) are education, level of responsibility and supervision requirements. An OTA goes to school for 2 or 4 years to earn an Associate or Bachelors degree. Once graduated and a passing score on the National Board for Certification in Occupational Therapy (NBCOT) Certification Exam is earned, an OTA practices under the supervision of an OT through heavy collaboration. An OTA follows the plan of care developed by the OT; therefore, is not responsible for evaluations or discharges planning. An OTA does document daily intervention notes.  An OTA's focus is intervention implementation.  An OTA can practice in a variety of fields, including but not limited to schools, hospitals, clinics, nursing homes, and home health.
Currently, to become an OTA, you must earn a two-year associate degree and graduate from an ACOTE-accredited occupational therapy assistant program. It is common for some practitioners who have earned a four-year bachelor's degree to later complete a two-year associate degree to become an OTA, while other clinicians hold a two-year associate degree as their highest degree. If you are unsure of what is right for you, ask yourself, "Which educational degree will help me reach my career goals and aspirations?"  For more information reach out to one of our academic and career advisors to discuss your options at 910.630.7333.
As a graduate of the MU BSOTA program, you will have earned a four-year Bachelor of Science Degree and will be eligible to sit for the National Board for Certification in Occupational Therapy (NBCOT) Certification Exam. With a passing score from NBCOT, you will be able to practice occupational therapy as a licensed OTA. In addition, the BSOTA program will help prepare to earn a master's or Doctorate to advance your education as an occupational therapist. Earning the BSOTA degree will provide you with diverse career opportunities in the healthcare industry and gives you the opportunity to work throughout graduate school in a high-quality profession, should you decide to continue advancing your education.
Methodist University is currently one of many baccalaureate-degree-level educational programs seeking accreditation. Like these other programs, until Candidacy Status has been granted by the Accreditation Council for Occupational Therapy Education (ACOTE), these programs cannot admit students into the OTA baccalaureate-degree-level program. Once Candidacy has been granted to a school, they will then continue to move through the accreditation process through self-study, site visits, and finally achieving full accreditation. For more information on accreditation please check out the accreditation tab on the OTA website and for a list of OTA programs please visit acoteonline.org/schools/.
At this time there are only two baccalaureate OTA programs seeking accreditation in the state of North Carolina. Over time, this may change.
It can be uncomfortable thing about pursuing education in a program that is not yet accredited, however the accreditation process is designed to support the university, faculty, and students of the new program. Methodist University (MU) faculty, staff and administration have every confidence that the BSOTA program will achieve full accreditation before the first cohort of students graduate as the MU OTD program has successfully achieved full accreditation.
If you are interested in the BSOTA program, you can do the following things to gain further information to aid your decision:
Familiarize yourself with the process of accreditation.
Discuss with your admissions counselor regarding any of your concerns.
Refer to BSOTA schedule of courses and admissions information.
If you are still uncomfortable and still have additional questions or concerns, you can speak to the OTA program director or contact the AOTA Accreditation Department at accred@aota.org.
If you are interested in enrolling into the BSOTA program, you are encouraged to speak to your admissions counselor and/or One Stop advisor about how to declare your major as OTA. This will allow MU staff and faculty to guide you towards completing specific foundational education pre-requisite courses that are required for acceptance into the OTA core phase and ensure that you will be on track for graduation in four years. If you are a transfer student interested in applying to the BSOTA program, please reach out to Keri Walters at kwalters@methodist.edu.
As a bachelor's degree, Methodist University's Occupational Therapy Assistant program takes four years to complete. After seven semesters of rigorous classwork and a semester of clinical work, students will be able to take the National Board for Certification in Occupational Therapy (NBCOT) certification exam. If they pass, they can practice as a Certified & Licensed Occupational Therapy Assistant (COTA/L).
Occupational therapy is a demanding discipline that requires solid academic and clinical work. Methodist University's focus on a low student-to-faculty ratio tailored with a faculty with experience as occupational therapy assistants will prepare students for success.
Your One Stop advisors are a great resource for you and can provide you with more information regarding pre-requisites, GPA requirements, and must-needs for the OTA program.  If you would like to talk to someone in the Occupational Therapy field to discuss if this is the right path for you, you can reach out and schedule an appointment with Melissa Gibson (megibson@methodist.edu), the BSOTA Program Director, or Alisha Myers (amyers@methodist.edu), the BSOTA Academic Fieldwork Coordinator.