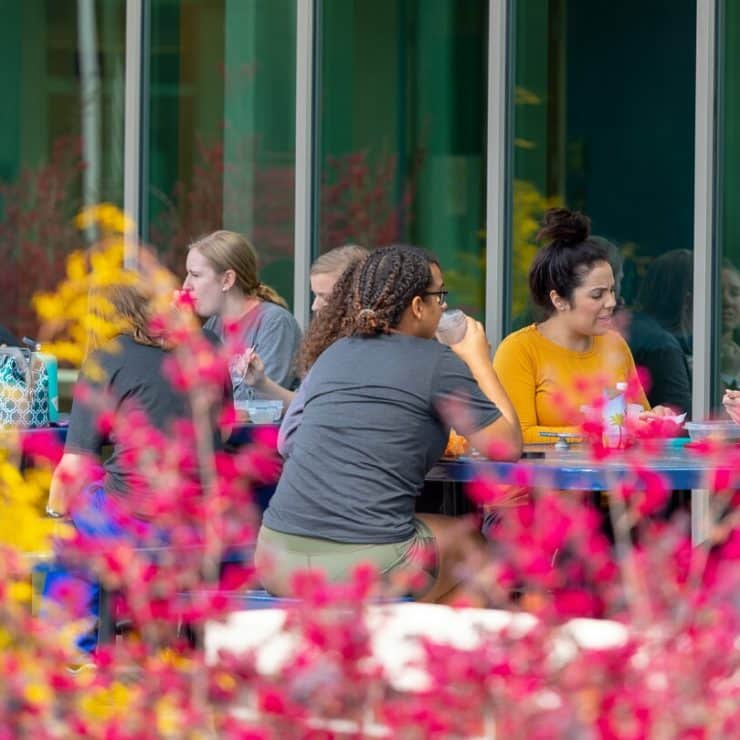 Doctor of Occupational Therapy Program Admissions
Class of 2027 Admissions Cycle
The Class of 2027 Admissions cycle (for a Fall 2024 start) opens Friday, July 21, 2023, on OTCAS.
Admissions Contact
Email: otinfo@methodist.edu
Admissions Pathways
The Department of Occupational Therapy offers three avenues for admission into the entry-level Doctor of Occupational Therapy Degree (OTD) Program.
Prerequisite Courses
In addition to the degree requirements, candidates for admission will also have to satisfy the program prerequisites.
Admissions Procedures
Consistent with the University admission policy, admission to the Methodist University OTD Program is without regard or discrimination on the basis of race, religion, national origin, sex, age, marital status, or status with regard to public assistance or disability. However, becoming an occupational therapist requires the completion of an education program which is intellectually as well as physically challenging, that the candidate should be able to perform in a reasonably independent manner, and reasonable accommodation does not mean that students with disabilities are exempt from certain tasks inherent to the practice of occupational therapy. Methodist University's Program in Occupational Therapy is committed to recruiting, enrolling and educating a diverse student body.
The MUOTD Program does not require applicants to take the Graduate Record Exam (GRE). If the candidate is a non-native speaker of English, a Test of English as a Foreign Language (TOEFL) may be required.
Observation Hours
Each applicant should complete a minimum of 50 hours of professional exposure activities to include two different settings or populations. Professional exposure can include direct shadowing of an OT practitioner or virtual and remote professional exploration activities. Applicants may gain exposure to populations served by OT through a variety of volunteer and community services opportunities. Serving with an organization can help expand your knowledge of the challenges, strengths, and needs across and within client populations. Examples: Meals on Wheels, summer camps for children with developmental or chronic conditions, long term care facilities (nursing homes), and adaptive sports programs.
Students need to be aware that felony related charges and convictions may prevent participation in fieldwork experiences. In addition, a criminal record may prevent the student from taking the National Board Certification of Occupational Therapists (NBCOT) exam and also from becoming licensed. A student should contact NBCOT if there is a prior criminal record that might interfere with eligibility to sit for the national exam.
Letters of Recommendation
Two letters of recommendation are required from:
A professor, teacher, or academic advisor who is familiar with the applicant's scholastic performance.
A person, other than a relative or friend, who is familiar with the applicant's professional work capacity, professional behavior, and dependability (a person who supervised observation experiences is encouraged).
Personal Essay
The OTCAS application requires a personal essay submission with no word limit. This is an opportunity for the applicant to demonstrate their writing skills in describing their life experiences, professional goals, and knowledge of the profession.
Application Submission
Please submit all application materials through OTCAS at otcas.liaisoncas.com. Your OTCAS application must be submitted by the deadline for that application cycle. OTCAS will take two to four weeks to verify the submitted application. The Methodist University OTD program will not review an application until it is in a verified status.
Early Decision Deadline: October 1
Required letters of recommendation must also be reported by this deadline in order to be considered for Early Decision. Interview decisions will go out approximately 4-6 weeks after the deadline.
Regular Admission Deadline: December 1
Required letters of recommendation must be received by the program before an interview decision can be made. Interview decisions will go out approximately 4-6 weeks after the deadline.
Applicant Review Process
Prior to being submitted to the Admissions Committee, all courses and grades entered by the applicant will be verified by the OTD Program Admissions Director. Once the application has been verified, the information will be forwarded to the OTD Program Admissions Committee, who will begin the Applicant Review.