Doctor of Occupational Therapy Fieldwork Education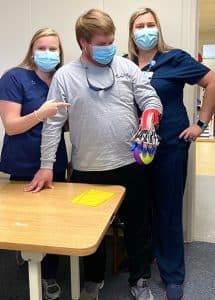 The Methodist OTD Program feels strongly that the application of knowledge and skills through experiential learning in real practice contexts is a critical piece of professional training.  In addition to hands-on laboratory activities in the classroom, community-based projects, and practical examinations, our program requires five full-time professional fieldwork experiences for a total of 27 weeks of professional fieldwork education.
Our Goals
To engage, enrich, and empower our OTD students to become competent clinicians.
To engage, enrich, and empower our fieldwork affiliates by broadening professional knowledge and clinical education practices.
To engage, enrich, and empower fieldwork educators through consistent communication, collaboration and access to supportive resources essential for successful execution of the fieldwork educator role.
Level I Fieldwork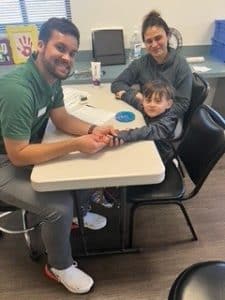 The purpose of this experience is to introduce students to the fieldwork experience and develop a basic comfort level with understanding of the needs of clients. Level I Fieldwork is not intended to foster independent performance, but to "include experiences designed to enrich didactic coursework through directed observation and participation in selected aspects of the occupational therapy process." Experiences may include those directly related to occupational therapy, as well as other situations to enhance an understanding of the developmental stages, tasks, and roles of individuals throughout the life span. Day care centers, schools, hospitals, neighborhood clinics, hospice, homeless shelters, community mental health centers, and therapeutic activity or work centers are among the many possible sites (AOTA). During this experience, students are able to interact with clients, begin to cultivate their therapeutic communication skills, and practice skills they have learned in the classroom in a real-world setting under the supportive supervision of a clinical instructor.
Level II Fieldwork
The Level II Fieldwork experience is designed to promote clinical reasoning and reflective practice, to support ethical practice through transmission of the values and beliefs of the profession, to communicate and model professionalism as a developmental process and a career responsibility, and to expand knowledge and application of a repertoire of occupational therapy assessments and interventions related to human occupation and performance. Through this fieldwork experience, students learn to apply theoretical and scientific principles learned in the didactic portion of the academic program to address actual client needs and develop a professional identity as an occupational therapy practitioner within an interdisciplinary context (AOTA, 2012). By the end of the 12 weeks of the Level II experience, students should be performing the entry-level competencies expected of the site affiliation.
Fieldwork Partnerships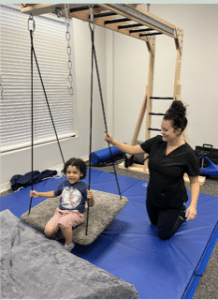 If you are interested in taking students for either Level I or Level II fieldwork rotations, please contact the Academic Fieldwork Coordinator, Dr. Sheri Michel at 910.482.5432 or smichel@methodist.edu.
Additional Fieldwork Information
A summary of all the fieldwork educational rotations, targeted goals, and the requirements are provided in the At-A-Glance Fieldwork Chart.
Other Considerations
Students need to be aware that felony related charges and convictions may prevent participation in fieldwork experiences. In addition, a criminal record may prevent the student from taking the National Board Certification of Occupational Therapists (NBCOT) exam and also from becoming licensed. A student should contact NBCOT if there is a prior criminal record that might interfere with eligibility to sit for the national exam.
OTD Fieldwork COVID-19 Policy
Note: The University no longer requires the COVID-19 vaccine for enrollment. This policy is currently under review and a revision is pending.
Completion of fieldwork and doctoral capstone rotations is required of all MU OTD students to successfully complete the program. The program utilizes medical centers, schools, and private practices for fieldwork rotations, which are often known to require proof of full vaccination against COVID-19. The opportunity to apply for medical or religious exemptions may or may not be available and/or approved at these sites. Although the COVID-19 vaccine is not required of students to enroll in Methodist University, the MU OTD program will not make accommodations for the student if exemptions are denied at clinical facilities, which may result in failure to complete the program or a delayed graduation.
Links
Frequently Asked Questions
The standards for an accredited educational program for the Occupational Therapist or Occupational Therapy Assistant are the official Accreditation Council for Occupational Therapy Education (ACOTE) documents that govern the length and types of fieldwork required for all students.
For Level I Fieldwork, AOTA does not require a minimum number of hours. Methodist University facilitates three, 30-40 hour Level I rotations that provide our students with the educational learning environment and with quality supervision to meet the expected outlined goals of the course. For Level II Fieldwork, the ACOTE standards require a minimum of 24 weeks full-time experience for occupational therapy students. This may be completed on a full-time or part-time basis, but may not be less than half-time, as defined by the fieldwork site. All students must complete the fieldwork required by Methodist University to qualify for graduation and eligibility for the NBCOT exam and state licensure.
The standards recommend that the student be exposed to a variety of clients across the life span and to a variety of settings. While AOTA does not mandate specific types of fieldwork, such as pediatrics or physical disabilities, we reserve the right to require specific types of fieldwork placements and experiences for our OTD students based on learning needs.
Fieldwork sites and reservations are made one year in advance. Some fieldwork sites are within the Fayetteville city limits and others are located across and outside of North Carolina. Student assignments and considerations are based upon student interest, needs, and fieldwork site availability. As part of the Methodist University policy, OTD students are expected to have access to transportation during fieldwork courses which includes the required fieldwork rotations.
Methodist University supports international education opportunities for students and faculty.    These opportunities will be explored on a case by case basis.  For students wishing to pursue international fieldwork experiences, the student must consult with the Academic Fieldwork Coordinator (AFWC).  Methodist University must be able to establish a legal contract with the international site and assure supervision as dictated by ACOTE standards; for example, the Level II fieldwork student must be supervised by an occupational therapist who has graduated from a program approved by the World Federation of Occupational Therapists (WFOT) and has had one year of OT clinical practice experience from initial date of certification.  Also, the fieldwork rotation shall not exceed 12 weeks. International placements are not guaranteed.
The AFWC contacts all fieldwork affiliates to inquire on placement availability and then executes the process for establishing Affiliation Agreements.  The OTD Program has also established a designated process for students to engage in and share fieldwork placement interests with the AFWC.  Students can request a new site affiliation be established according to the procedure outlined in the Fieldwork Manual.
It is the responsibility of the AFWC to ensure Methodist University and the fieldwork affiliate agree on the stated rights and responsibilities of each party, and to assure that a current contract is in place prior to any fieldwork rotation. The AFWC considers all aspects during the selection process, including student preferences, however, NO PLACEMENT is guaranteed.