Fraternity & Sorority Life
"These letters don't make me better than you; these letters make me better than I used to be."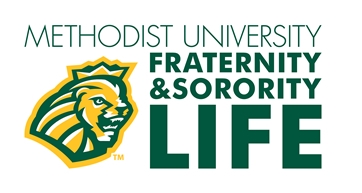 Fraternity & Sorority Life at Methodist University provides the opportunity for students to participate in a unique experience. Fraternities and sororities have a long standing tradition of the four Greek Pillars: community service, excellence in scholarship, leadership development, and sisterhood/brotherhood.
Community Service
Each year members are dedicated to giving back to the community and accumulate more community service hours than any club or organization on campus. Projects have ranged from Cycle for Life, The Ronald McDonald House, Girls on the Run, Feeding America and so much more. Students continue to make an impact each year through their time and service to Methodist University and the greater Fayetteville area.
Excellence in Scholarship
Fraternity & Sorority Life requires a minimum of a 2.5 cumulative GPA to go through recruitment and join as a new member. While individual chapters may require a higher GPA academics is at the forefront of our organizations.
Leadership Development
Leadership is a continuous process for students and we seek to foster student's leadership capabilities through leadership positions among chapters and outside organizations. Methodist University seeks to instill leadership qualities into all students as a transferable skill throughout their collegiate experience.
Sisterhood/Brotherhood
Being a member of Fraternity & Sorority Life is becoming a member of a family. Having brothers and sisters to continuously support and challenge you add to the sense of community here at Methodist University.
Expansion Policy
Methodist University welcomes organizations who are interested in pursing establishing a chapter here on campus. This extension policy is for organizations other than those belonging to the National Panhellenic Conference. Sororities belonging to the National Panhellenic Conference will follow all rules and regulations following the expansion process set forth by NPC.
For further questions please contact the Director of the Campus Engagement Office at (910) 630-7022 or amagras@methodist.edu.
Fraternity & Sorority Advisors
Aly Magras
Director, Campus Engagement Office
910.630.7022
amagras@methodist.edu
Hannah Key
Assistant Director of Campus Recreation and Engagement
Contact
Director, Campus Engagement