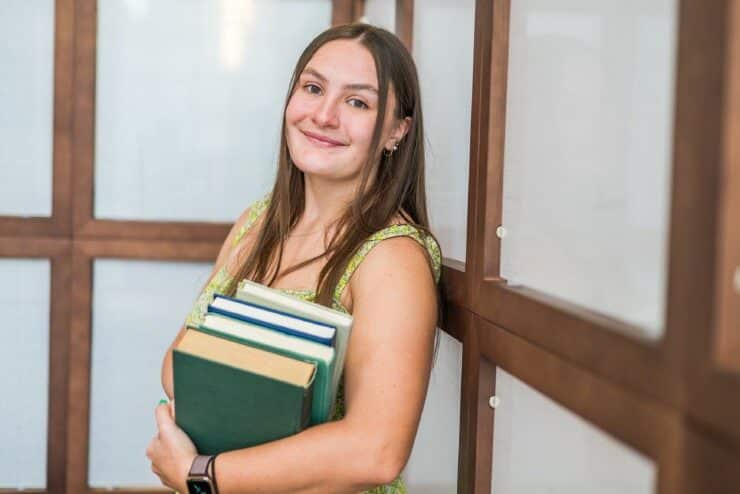 The old expression is "there's a method to the madness." In the case of Methodist University senior Madison Brunson, there is no mystery to thought processes, goals, or even outcomes, and so the expression for her becomes "there's certainly a method to the success."
The old expression is "there's a method to the madness." In the case of Methodist University senior Madison Brunson, there is no mystery to thought processes, goals, or even outcomes, and so the expression for her becomes "there's certainly a method to the success."
A Psychology major from St. Petersburg, Florida, Brunson is as thoughtful and successful in the classroom, as she is working on her aunt's farm, coordinating events, or competing in athletics. There's a strategy in place, an obvious method that has and will reap benefit. That's the case now, and it was four years ago when she chose to attend Methodist University.
"I knew I wanted to attend a smaller university where I could have meaningful conversations with my professors and get deeper into education than I could at a bigger university," she said. "Then, when I visited campus, I knew this was the place for me… I was hooked on the academics – especially the Human Performance Concentration in the Psychology major – and all of the beautiful nature on the MU campus. I wanted to go somewhere that had all four seasons, and everybody I met during my visit was so friendly it was such a welcoming environment. I knew I could do well here."
"Do well here" could certainly be considered an understatement for Brunson, who has an overall 4.0 grade-point average having never received anything but an A in any of her classes. This is with dual concentrations in Counseling/Clinical and Human Performance Psychology, two minors in Neuropsychology and Management (out of MU's Reeves School of Business), President's List, Dean's List, two-time Scholar Athlete for women's soccer, and having met all requirements for the Leadership Fellows and MU Honors Program.
"In my view, doing well in academics is a rehearsal for how well you will do for the rest of your life," Brunson said. "If you want to be taken seriously in your professional life, it's a good idea to take college seriously. You have to prepare yourself well. At MU, you can learn the life skills you need for anything if you pay attention and practice."
Putting effort, skill, and excellence into use is something Brunson says she learned from her parents, who run a medical practice in Florida. "They both have worked so hard academically and running their practice, it has really shown me and my sister that we can do the same thing," Brunson said.
That Brunson method for excellence is not just readily visible in MU classrooms. She is one of MU's New Student Orientation leaders, was a two-time captain and was chosen all-conference in soccer twice, she's done a study-abroad trip to Guatemala, has walked alongside peers as a CHAMPS (a study hall program for student-athletes) supervisor, and is president of the Alpha Sigma Alpha sorority (and secretary of the Greek Council). It's little surprise that Brunson was named a Wright Scholars recipient, a scholarship made possible by a gift to the University from Dr. Harvey T. Wright '70 and his wife, Mary Fermanides Wright '68, that covers 100 percent of a student's tuition for eight semesters at MU.
"I'm really honored to be a Wright Scholar… to be one of five students that receives this scholarship every year," Brunson said. "I obviously work hard to keep the scholarship by maintaining a high GPA and extra curriculars, but it's also great because we get to meet the Wrights every year, get to talk to them and know them, and find out why they are passionate about education."
Dr. Mark Kline is a professor of Psychology at MU and head of the Social Sciences Division. Like other educators that have had Brunson in their class, he's quick to point out the positives.
"Madison's passion for learning is evident in everything she does. She is always asking questions, and she is always eager to share her own insights," Kline said. "She is also a very hard worker, and she is always willing to put in the extra effort to succeed. I am confident that she will make significant contributions to the field of psychology."
As passionate as she is about education and academics, Brunson lists her sorority sisters, teammates, roommates – and faculty and staff at MU – as some of the most inspiring influences on her amazing college career thus far.
"I have made life-changing connections while at MU," Brunson said. "I did the CHAMPS and MU Journey classes with (former MU staff member) Dr. Tavares Hunter '02 and he used the phrase 'The Brunson Method' when talking to other students about how I would spend time in the library before and after classes as a way to get better grades.
"I met my mentor Elena Schmidt '23, who is in MU's Doctor of Occupational Therapy program, and amazing professors like Dr. Kline. I met my boyfriend here, and soccer gave me 'Maddie to the Power of Three,' which were soccer teammates and now my roommates (Madison Rizer '24 and Maddie Hernandez '24). These people and others have made my time at MU so enriching."
These individuals have had the similar life-changing connections with Brunson.
"I have witnessed Madison Brunson's passion shining through any activities that she has set out to do," said Schmidt. "She always does her very best to help others in any way possible. Madison is selfless, kind, motivated and intelligent."
While walking across the stage to receive her diploma would be another academic milestone surpassed by Brunson, if the strategy goes as planned, Brunson will be right back in the classroom soon after.
"In five years, I hope to have my doctorate in Industrial Organization Psychology," Brunson said. "I love school and learning. So, I hope to continue that. Psychology really sets you up to do anything well. If you understand people and why they act the way they do, and how you can influence them… you can take that to anything else your interesting in."