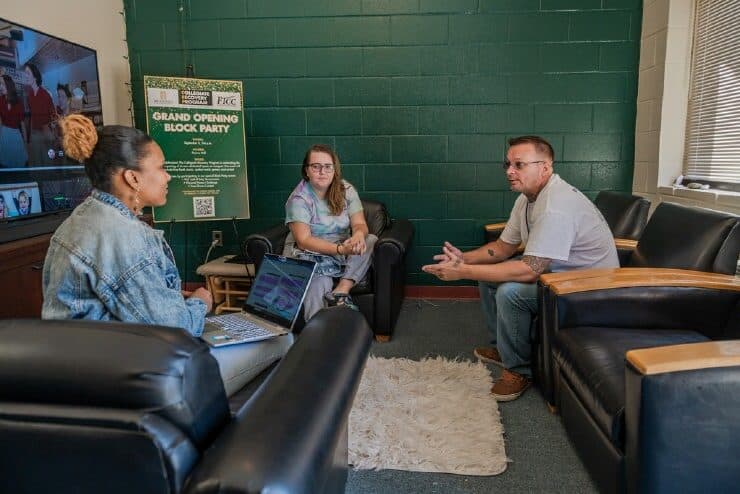 Methodist University is leading the way with a multi-campus Collegiate Recovery Program that supports students in their recovery from addiction.
Methodist University is leading the way with a multi-campus Collegiate Recovery Program that supports students in their recovery from addiction.
Stemming from a $500,000-plus grant that was announced in January, Methodist University and Fayetteville Technical Community College have partnered to offer the Collegiate Recovery Program. Available to students on both campuses, the Collegiate Recovery Program uses a design the embraces evidence-based practices and supports students' decisions to engage in a lifestyle of recovery.
"College students are some of the most stressed people in our society with everything that they're handling right now, which means the potential for substance for misuse is very high" said MU's Cynthia Reyes, director of Campus Recreation, Wellness & Collegiate Recovery. "This helps provide them with a safe space if they feel like it's becoming an issue or if they're nervous about a family member's history of addiction."
Located in Pearce Hall on the MU campus, the Collegiate Recovery Program offers a dedicated lounge area where any student can socialize and engage in fun activities. The program also offers a variety of mutual aid support groups – SMART recovery, Celebrate Recovery, 12 Steps, Wellness/Recovery Action Planning (WARP), harm reduction, and more – and offers access to Gregory Berry, a highly trained North Carolina Certified Peer Support Specialist and SMART Recovery Facilitator whose office is in Pearce. Meanwhile, FTCC's Collegiate Recovery Program office is located in the Tony Rand Student Center.
"As someone in long-term recovery, I've had to navigate college while in recovery," Berry said. "I know from past experience all of the challenges you face in college when you're someone going through recovery, so I'm familiar with the needs that students have. I just want to be able to help students if they're going through anything. It's extremely gratifying."
The program also works directly with the MU's Health & Counseling Services and Campus Recreation to help meet the physical and mental needs of students.
Although the Collegiate Recovery Program is new, Methodist University does have a history of assisting students with the road to recovery. In 2020, Mitzi Averette, adjunct assistant professor of Nursing, collaborated with MU students to create Cumberland County's first collegiate recovery gathering called "Roaring4Recovery." Averette now offers expert and volunteer guidance to the Collegiate Recovery Program.
"When I came to campus in 2020, the program saved my college career and helped me stay involved on campus," said MU senior Adriana DeMercurio, a student ambassador for the Collegiate Recovery Program and a Psychology major. "It's very rewarding to see the impact it has made on other students, and that's why I'm involved with the Collegiate Recovery Program."
MU senior Rosalinda Torres, who is graduating with a bachelor's degree in Social Work this December, said students like her see the importance of having a program directly on campus.
"Everyone needs support," Torres said. "Knowing that there's a place on campus where there's no judgement and we have the freedom to speak in confidence, it helps students in recovery overcome a lot of things."
Upcoming Events
The Collegiate Recovery Program hosts regular social events and inclusive programming throughout the year, including two major events happening later this week:
Overdose Awareness Day (Thursday, Sept. 7, 5 p.m., Chaffin Nursing Building at MU) – Students, faculty, and staff are invited to create NARCAN rescue kits, share poetry, speak about loved ones, and participate in a candlelight vigil to remember those who died from overdose
Collegiate Recovery Program Grand Opening Block Party (Friday, Sept. 8, 3-6 p.m., Pearce Hall) – Both the MU and FTCC community are invited to an afternoon filled with free food, music, games, and some information about their dedicated space on campus. There will even be a Call of Duty tournament, physical fitness challenge, and free-throw contest.
Any student is welcome to visit the Collegiate Recovery Program at Pearce Hall 8 a.m. to 8 p.m. on weekdays and 8 a.m. until 1 p.m. on Saturdays. For more information about the FTCC office, contact Ilana Sheppard at sheppari@faytechcc.edu or call 910.486.3684.