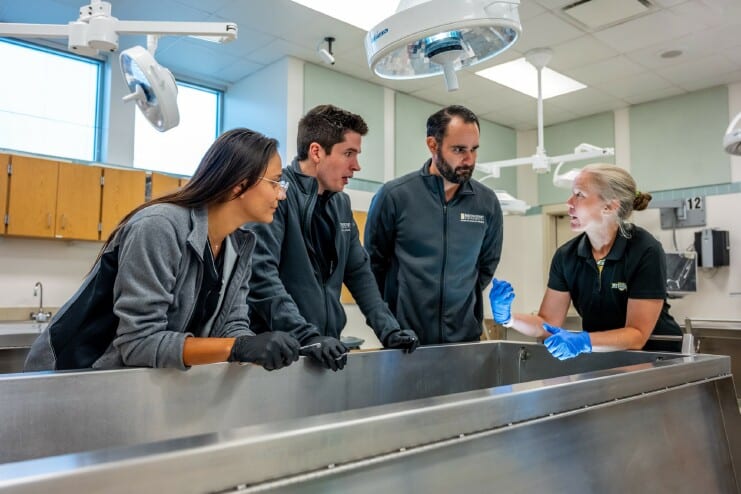 Methodist University is at the forefront of preparing the next generation of doctors, physician assistants, occupational therapists, physical therapists, nurses, kinesiologists, and health care administrators – all through various health sciences programs that are, or will soon be, on the cutting edge of education in the world of health care.
Whether through personal experience, observation of a loved one, or living through a global pandemic, the need for quality health services has likely never been more evident.
Fortunately, Methodist University is at the forefront of preparing the next generation of doctors, physician assistants, occupational therapists, physical therapists, nurses, kinesiologists, and health care administrators – all through various health sciences programs that are, or will soon be, on the cutting edge of education in the world of health care.
Emerging School of Medicine
According to workforce projections from the Association of American Medical Colleges – and despite the amazing work being done by current physicians – there will be a shortage of 17,800-48,000 primary care physicians and a shortage of 21,000-77,100 non-primary care, specialty physicians by 2034.
The eye-popping statistics are one of many reasons why Methodist University and Cape Fear Valley Health's (CFVH) groundbreaking partnership comes at an ideal time. In February, the two institutions announced their intent to establish a school of medicine (SOM) located at the CFVH Medical Center.
"I could not be more excited about the new school of medicine, and I am so pleased to have Cape Fear Valley Health as our partner." said Methodist University President Stanley T. Wearden. "When two major organizations in the community combine forces, transformative things can happen, and that is exactly what's happening with the SOM, which will improve the region's health care and have a powerful effect on the region's economy. The new school is a major step in MU's advancement into health care education. Additionally, the school's focus on medical education for rural and underserved populations fits beautifully with MU's missional focus on caring for and serving others."
Falling within Methodist University's new College of Medicine, the SOM combines the expertise and resources of MU and CFVH to provide students with unparalleled educational and clinical experiences. Students will be able to learn in a collaborative environment with innovative technologies at the newly constructed, cutting-edge facilities.
"Cape Fear Valley Health is expecting the planned SOM to transform the health and economic landscape in the Fayetteville region," said Michael Nagowski, CEO of Cape Fear Valley Health. "This is a once-in-a-generation undertaking, and we are so excited to partner with Methodist University. We know the University will design an outstanding program, as they've shown through their existing Health Sciences programs. We're also excited about what this will mean for our community's health outcomes. Wherever there are academic medical centers, partnering with universities to produce physicians and clinicians, the overall health of the population improves."
The SOM will also provide students with the opportunity to work alongside experienced faculty and health care professionals, gaining valuable real-world experience that will prepare them for their future careers.
Embracing Mission and Values for All
Dr. Hershey Bell, the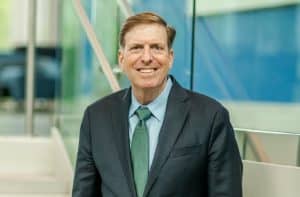 founding dean of the MU College of Medicine, will oversee the accreditation process of the SOM, as MU – currently an applicant program with the Liaison Commission on Medical Education – will submit a substantive change prospectus to the Southern Association of Colleges and Schools Commission on Colleges for approval. Pending approval, Methodist University plans to begin classes in July 2026.
Bell will also develop an innovative curriculum that combines asynchronous with classroom learning. He will also focus on outreach – meeting with business, education, and religious leaders from the greater Fayetteville area to better understand needs and expectations of health care in the community.
"Being born out of the vision of two exceptional organizations, the SOM will serve its mission of improving health outcomes and eliminating health disparities in Southeastern North Carolina through educating medical students in a rigorous and socially accountable medical school curriculum," Bell said. "We will be teaching our students in a model of a community-engaged care that can serve as an example for the entire nation. Our unique 'Caring for Everyone Everywhere' curriculum will embrace both Methodist University's mission of affirming ethical values such as truth, virtue, justice, and love and Cape Fear Valley Health's mission of providing exceptional health care for all."
The partnership between MU and CFVH will also contribute to the economic development of the region. The proposed school of medicine is expected to create jobs and attract businesses, providing a significant boost to the local economy.
According to a July 2021 report from Walden Economic Consulting, detailed analysis reveals substantial financial and employment impacts from the proposed SOM. During construction, regional spending is expected to increase by $124 million, tax payments to all governments will rise by $14.2 million, and 922 local jobs will be generated. At the peak of the SOM's operational capacity, there is expected to be $72 million in annual spending, 837 permanent jobs, and $9.6 million in tax revenues.
On top of the economic impact, the SOM is a significant milestone in the history of medical education in Southeastern North Carolina. Not only does it help address the shortage of health care professionals and improve the quality of health care delivery, the SOM empowers the goal of providing better care for rural and underserved populations and diversifying the physician workforce.
"The new school of medicine will educate a diverse population of students who have a deep understanding of socially accountable medical practices and a commitment to serving the people of Southeastern North Carolina," said MU Provost Suzanne Blum Malley. "Our goal is to shape a model curriculum of community-engaged health promotion and exceptional health care, serving as an example for the nation."
History of Quality Programs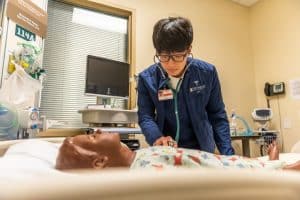 While the looming SOM is an exciting addition to Methodist University, the institution also boasts a substantial history of providing in-depth, modern health sciences education for the past several decades. Ranging from undergraduate and graduate to on-campus and online, MU currently excels at offering more than 20 programs of study related to the health sciences.
"Methodist University offers a strong portfolio of health science programs, and it began with our Physician Assistant (PA) Studies program more than 25 years ago," said Dr. Trey Hoyt, dean for MU's College of Health Sciences & Human Services. "Over the past 13 years, we have developed programs in nursing, physical therapy, and occupational therapy. Additionally, our College provides programs in health care administration, kinesiology, and social work. A common bond between all of our programs is that they prepare students for careers in service to others, and that will apply to the medical school, as well. We're excited about what lies ahead for Methodist University, the community of Fayetteville, Cumberland County, and Southeastern North Carolina."
The PA program has prepared more than 500 graduates for clinical practice – with more than half entering primary care medicine – since being established in 1996. The graduate program boasts small class sizes, strong support from the medical community, and a Physician Assistant National Certifying Exam pass rate that ranks competitively with the nation's best.
"Methodist University's PA program has helped broaden my knowledge on health care as a whole," said Tiy Johnson '21, a student who earned a bachelor's degree in Biology from MU and is now on track to graduate from the University's PA program this December. "Now, I understand health care from a provider role and all of the responsibility that goes along with it. I have gained the skills to fulfill the role of a mid-level provider while being able to diagnose and treat my patients in the most effective and efficient way possible."
Methodist University's Doctor of Physical Therapy (DPT) program has trained cohorts of students since 2015, educating them to collaborate with patients, families, and health care providers for wellness and prevention, fitness, and rehabilitation. In addition to the broad expertise of the faculty, the program is housed in the University's renowned McLean Health Sciences Building – a 38,800 square-foot facility that provides innovative and collaborative learning spaces.
Within the same building, the Doctor of Occupational Therapy (OTD) program prepares students to become leaders in their field, addressing chronic disease, disability, and mental health conditions in a variety of health care settings, schools, home-based care, and communities.
There is even a bachelor's degree available for students interested in occupational therapy. In 2022, Methodist University announced it would become one of the first universities in North Carolina to offer an accredited Occupational Therapy Assistant program. The undergraduate program is accepting its first cohort of students this fall, anticipating its first graduating class in 2027.
For those considering a graduate degree in physical therapy or occupational therapy, students have access to a career that studies the art and sciences of human movement: Kinesiology. As a bachelor's degree, students understand the human body, how it functions, and how it responds and adapts to physical activity. The cutting-edge program is also housed in the McLean Building.
One of MU's most in-demand programs is Nursing, which offers a strong mix of degrees. The lone on-campus degree in the program, the prelicensure Bachelor of Science in Nursing degree teaches the skills it takes to become a licensed registered nurse.
"The Nursing program has impacted me by fostering a better sense of professionalism while also preparing me with vital skills and relationships necessary in a career as a nurse," said Nadeen Zananiri, who is graduating with a bachelor's in Nursing in May.
During a time in which many nurses are wishing to advance their careers by garnering more in-depth education, but still need to work a full-time job, MU also offers four online programs in Nursing: RN-BSN Completion, Nursing Education Certificate, Master of Science in Nursing, and Doctor of Nursing Practice in Executive Leadership.
With the expansion of health services comes a need for more administration over those services. MU's Health Care Administration program is offered both on campus and online – challenging students to consider careers as a hospital administrator, health care manager, hospital CEO, health care consultant, and much more. MU is also offering a degree in Advanced Paramedicine.
From the emergence of the state-of-the-art SOM to the history of health sciences programs already offered, Methodist University is on the rise as a hub for health sciences education – and it appears the ascension is taking place at exactly the right time.
You can learn more about MU Health Sciences & Human Services or check out ways to take classes or support MU students.