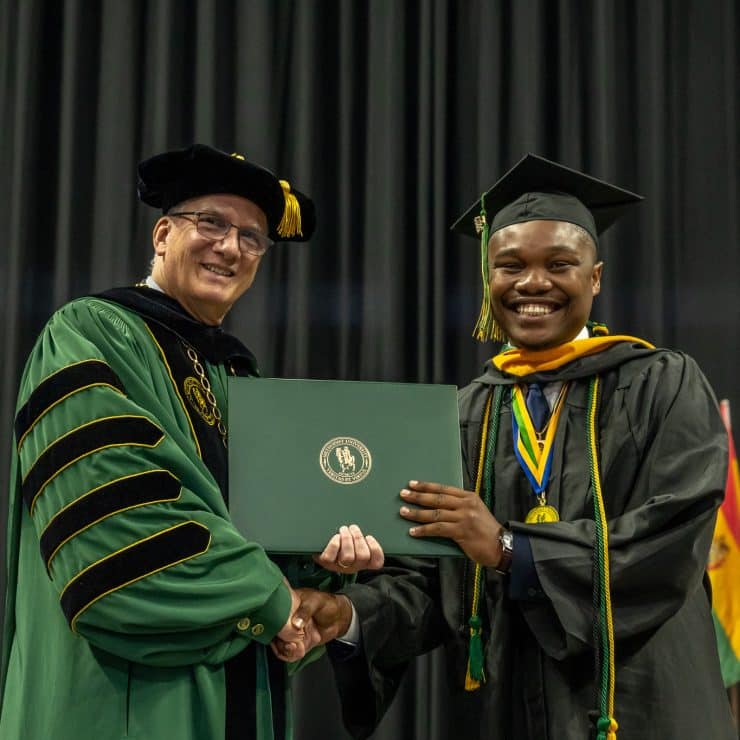 Methodist University's 60th annual Spring Commencement included an entire weekend of celebrations as graduates received degrees and now embark on the next chapter of their lives.
Methodist University's 60th annual Spring Commencement included an entire weekend of celebrations as graduates received degrees and now embark on the next chapter of their lives.
The University introduced a brand-new "Commencement Weekend," hosting three commemorative events for the Class of 2023 across two days – a graduate commencement ceremony and Baccalaureate service on the University's campus on Friday, and then an undergraduate commencement ceremony at the Crown Coliseum on Saturday morning.
Methodist University President Stanley T. Wearden congratulated the more than 250 undergraduate and graduate students who officially completed their academic degree this weekend.
"I am so very proud of your accomplishments," said Wearden. "Not only have you completed challenging and important degree programs, but you have done so during a difficult time in human history. I hope you see in yourselves what I see in you – a deep reservoir of strength, character, and compassion. These are qualities that will serve you for a lifetime of success."
Friday's graduate commencement welcomed hundreds of family members and friends to Huff Concert Hall as more than 60 students received their master's and doctoral degrees. Graduates came from one of MU's 10 graduate programs including Business Administration, Physician Assistant Studies, Occupational Therapy, Physical Therapy, and others.
The ceremony featured Michael Nagowski, chief executive officer of Cape Fear Valley Health, as the keynote speaker. Nagowski oversees an eight-hospital, integrated health system serving four distinct markets with annual revenues exceeding $1 billion. He also helped create a partnership between Methodist University and Cape Fear Valley Health with the intent to establish a state-of-the-art Methodist University medical school.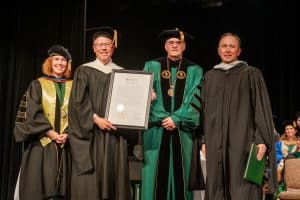 Nagowski was presented with an honorary Doctor of Humane Letters degree for his extensive service to Fayetteville and the region. He then provided a note of encouragement for the graduates.
"Adapting and overcoming the challenges that you were presented with was something few others have had to overcome," Nagowski said. "As the world and your job markets change —and they will change – you have learned to adapt and change. This is what will make you stronger and more valuable to yourself, your family, the work you choose to do, and your community… Go forth with all that you have learned, adapt fearlessly to challenges of the world around you, and make a lasting impact in your communities."
Before receiving their diploma on stage, each graduated participated in a hooding ceremony – a long-standing tradition at MU in which an individually-selected sponsor (often a parent, spouse, child, professor, or friend) hoods the graduate to mark their academic achievement. Afterwards, Wearden stood with graduates as they received their diplomas on stage.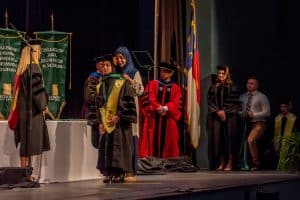 Later that same day, both undergraduate and graduate students from the Class of 2023 participated in the University's Baccalaureate service in Matthews Chapel – recognizing the accomplishments of graduates. Ashleigh Adamson '23, who graduated with a bachelor's degree in Music Performance, performed along with the MU Chorale. Rev. Dr. Clay L. Barrow, senior pastor of Bethel African Methodist Episcopal Church in Greensboro, delivered the inspirational sending forth.
On Saturday morning, loved ones filled the Crown Coliseum for the undergraduate commencement ceremony. Former Methodist University Board of Trustees chair (2012-17) Dr. Mary Lynn Bryan served as the ceremony's keynote speaker. Bryan was the co-chair for the Building Excellence Capital Campaign, which raised a record-breaking $42 million and resulted in the construction of the McLean Health Sciences Building, Matthews Ministry Center, and Union-Zukowski Lobby and Gallery at MU.
Before receiving a University Medallion in recognition of her outstanding contributions to MU over the years, Bryan addressed the graduates with a call for action in their post-graduation careers.
"Graduates, I hope your experiences at MU have been all you have imagined they would be – challenging, surprising, fun, and most of all, mind-opening," said Bryan. "After you leave Methodist University, be sure to look back with thanks and pleasure. Take the Methodist University values with you and incorporate them into your personal lives. The times and challenges are great, but you are MU graduates – you have an education and the skills to make a positive difference in our world. Go forth and make MU proud."
Individually, several students were recognized for their time at Methodist, including Karma Choki '23, who became the first person from Bhutan to graduate from Methodist University as she earned a bachelor's degree in Nursing. She was able to wave her flag on stage – the same flag that will now hang in MU's Berns Student Center, bringing the total number of countries represented by MU graduates to 125.
Methodist University presented the Algernon Sydney Sullivan and Mary Mildred Sullivan Awards to one student and two valued members of the MU community for their noble character and outstanding commitment to service. Recipients included Sean Coleman '23, who received his bachelor's degree in Engineering with a minor in Mathematics and Business Administration, along with Methodist University President Emeritus M. Elton Hendricks and his wife, Jerry A. Hendricks. During their 27-year tenure in the President's Home (1983-2010), they lived by the principle that a quality education is essential for fostering a life of virtue.
Later in the service, Hendricks had the unique honor of hooding his grandson, Tanner Hendricks '23, who became his third grandson to graduate from Methodist University. It was during Hendricks' term as president that both the hooding ceremony and the presentation of international flags during commencement began. Tanner Hendricks, who majored in Social Work, was also this year's Lucius Stacy Weaver Award winner. The award, as voted by the MU faculty, is given to the student who best exemplifies academic excellence, spiritual development, leadership, and service.
Lastly, Valeria Matute '23 was selected as this year's Distinguished Graduate. She was among the five students in her undergraduate class with the highest GPA and was chosen to speak at commencement by her peers. Hailing from Venezuela, Matute received a bachelor's degree in Business Administration with a minor in Professional Tennis Management.
"There were many moments when today may have felt unreachable or that it could not come soon enough," Matute said. "But as we say in my country, 'No hay que ahogarse en un vaso de agua' or 'Don't drown in a glass of water.' Sometimes, looking from the inside, semesters have felt as long as it takes to swim across the ocean, sharks and all. However, from the outside, it's nothing more than a few gulps… If we've learned anything from our time here, we should have learned how to keep our experiences in perspective."
Following Matute's speech, nearly 200 graduates participated in the hooding ceremony and received their coveted degrees from Wearden. MU's fifth president left graduates with a final declaration during the symbolic moving of the tassels, signifying the end of one journey and the beginning of the next.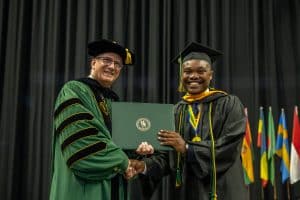 "Congratulations graduates, family members, and friends. This is a significant achievement, and it will change your lives in many ways both tangibly and intangibly," said Wearden. "We hope you have had a wonderful experience at Methodist University… This is your University today, and it will always be your University. Stay in touch, share your accomplishments with us, and stay involved. This is a great institution, and as we all work to make it even better, we will need your help."