Title IX Non-Discrimination Policy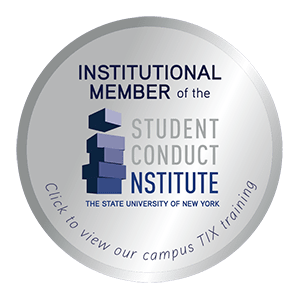 Title IX of the Educational Amendments of 1972 ("Title IX") prohibits sexual discrimination in educational programs receiving federal funds. At Methodist University, some of those programs and activities include: admissions, recruitment, financial aid, academic programs, athletics, housing, and employment. Title IX also protects students, faculty, and staff from unlawful sexual harassment in school programs or activities. Title IX protects both male and female students, faculty, and staff from sexual harassment, regardless of who is the harasser.
Methodist University does not discriminate on the basis of sex and is prohibited from doing so by Title IX. Title IX violations include discrimination on the basis of sex or gender and include sexual harassment, sexual exploitation, non-consensual sexual acts, sexual violence, and sexual misconduct (see section "1.4 Definitions" in the full Title IX Policies and Procedures).
Questions regarding nondiscrimination policies at Methodist or the application thereof may be addressed to:
Debra Yeatts, Director of Human Resources and Title IX Coordinator
Horner Administration Building
5400 Ramsey Street
Fayetteville, NC 28311
Telephone: 910.630.7385
Fax: 910.630.7306
dyeatts@methodist.edu
The Department of Education's Office of Civil Rights (OCR) ensures institutions receiving federal funding comply with Title IX regulations. Additional inquiries regarding Methodist University's application of Title IX may be referred to:
The Office of Civil Rights
District of Columbia Office
U.S. Department of Education
400 Maryland Ave SW
Washington, DC 20202-1475
Telephone: 202.453.6020
Fax: 202.453.6021
OCR.DC@ed.gov