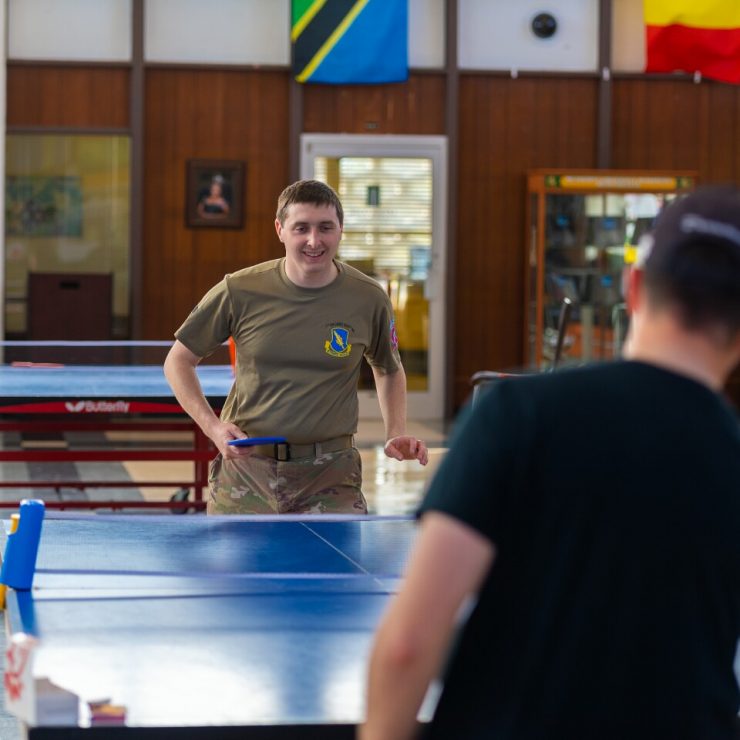 Methodist University's relationship with commuters dates back to 1960 when we welcomed our first set of 44 part-time commuter students. Throughout the years those numbers have multiplied as we expanded our academics, services, and campus to grow and be more accommodating to the commuting population through the Fort Liberty Office, MU Online, graduate degrees, etc.
The Commuter Student Association is designed to educate, embrace, and provide a social and educational experience that enhances the academic experience for all of our Methodist students. We value the commuter students input and contribution to the Monarch family and want them to feel at home as well as utilize all of the resources available in the campus community.
For more details please contact:
Alysia Magras, Campus Engagement Director
amagras@methodist.edu
---
Parking
Methodist University students, faculty, and staff members are required to register with the Department of Public Safety all vehicles parked or driven on campus. You must register your vehicle for campus parking online via the myMU Portal. For faculty and staff, click on the "Forms and Documentation" area. Students, once you're on the portal, click on the "Student Life" tab, then open the "Public Safety" link and follow the directions. If you have any questions, please call our customer service office at 910.630.7149, Monday to Friday from 8:00 a.m. to 5:00 p.m. Eastern Time. Commuter lots are located in the red and purple parking lots throughout campus, and they are restricted for commuting students, faculty, and staff between the hours of 7 a.m. and 5 p.m. weekdays. For further assistance and details, please visit Campus Maps to download a parking map or go to the public safety office located on campus and request a map.
Commuter-Friendly Student Areas
Berns Student Center is a student lounge with pool tables, ping pong tables, TVs, lounge sectionals, bistro study tables and chairs, and table days where different clubs and organizations set up to provide information or activities for the students.
Davis Memorial Library is the home for the quiet time commuters need to study, read, or sit and relax around the lounge areas in the library to just kick up your feet and wait for class.
The Student Veteran Center in North Hall is open to all veterans, active duty, and family members on campus. A computer, TV, lounge chair, and light refreshments are available in this center. There is also a staff member on site to help with navigating campus, the VA, and the academic journey at Methodist.
Dining Options
Regardless the time or day you attend Methodist, we have food options to fuel you up using a purchase option of your choice: cash, debit card, Monarch Bucks, or block meal plans. Monarch Bucks and meal plans can be purchased at Student Financial Services.
Green and Gold Café offers a buffet-style, sit down dining experience.
Starbucks

 

if you want something warm and savory from beverages, bagels, or sandwiches
The Pod

 

convenience store if you just want a light snack chips, milkshake, hot pockets
Chick-fil-A

 

if you want something fresh and hot
The Sandwich Shoppe

 

provides subs, potatoes, Paninis, or wraps.
Vending machine locations vary; however, they are located in every main building throughout campus.
There is an all access microwave located in the Pod, there is also an accessible microwave in the Student Veterans Center located in North Hall and the great room located in Hendricks Science Complex.
Around Town
A student involvement counselor can help you locate nearby discounts with MU ID, specials, and apartments surrounding the campus area. Methodist is on the strip of a very popular chain of fast food restaurants, the campus is also surrounded by some beautiful apartment and housing developments. We are sure you will find the counselors helpful and there is always time to make a great friend.
Bookstore
Show your Methodist University pride all year long with our authentic assortment of collegiate apparel – including Methodist University t-shirts, sweatshirts, gifts, hats and more. With sizes available for men and women, the whole family can cheer on the Monarchs in style in fan gear, every season. We've got Methodist University gift ideas covered, with options ranging from drinkware to gift cards. Looking for more than clothing and gifts? Our selection of textbooks, general books, computers, course materials, and supplies will ensure every Methodist University student is prepared for success. Call, contact or come into the Campus Store today or conveniently shop our Methodist University Monarchs Online Bookstore.
The hours of operation are 9 a.m. – 5 p.m. Monday through Friday. See the store web site for current and seasonal hours.
Public Safety
The Department of Public Safety works 24-7-365 to help keep Methodist University a safer and more secure place to learn, live, work, and grow. Our continuing mission is to serve and protect the University community while fostering an atmosphere of integrity, courtesy, and respect. We seek to continuously improve the quality and scope of our services to meet community's changing needs. We are committed to delivering the highest level of professional support to our students, faculty, staff, and guests. Please feel free to contact these numbers with any questions or concerns.
Vehicle Assistance:

University Police Officers are equipped to "jump-start" dead batteries.

 

Vehicle unlocks are only provided in an emergency situation.

 

NOTE: The vehicle's owner or operator must sign a liability waiver prior to assistance being provided.
Organizations & Clubs
Did you know research shows that participating in a club or organization has reflected an increase in GPA, enhances social skills, and influences the enjoyment of a student's college experience? We offer over 100 clubs and organizations on campus. Please visit the Campus Engagement Office page to get a list and further details, or stop by our location in Berns so that we can find a club that fits your interest.
New Student Orientation
Commuters please come out and get to know your campus during the New Student Orientation events. There is also a commuters briefing held during this time of fun and activity, the briefing is provided for you and to assure that you have the proper tools and resources you need. There is also an orientation held for evening students every semester during the evening hours to accommodate your schedule. Departments attending orientation tell the commuters how to access their services during and after hours, providing students with a face to go with the name.
One Stop
Whether you are a freshman, commuter, or a transfer student, Methodist University's One Stop has the support services that can assist you on your MU journey.  Visit the website for more information about:
Problems or questions? Visit the One Stop in Davis Memorial Library, or contact us at 910.630.7249 or dmunoz@methodist.edu.
Counseling Services
If you are dealing with general life issues, or anxiety, worry, disappointment, and/or other emotions, we are here to support you. If you need someone to assist you in processing and working through what you are experiencing, we are here for you! Whether you are an established client, or are seeking services for the first time, we are here to help!
Counseling Services is located in The Well on the first floor of West Hall. Students who would like to meet with a counselor in person should call 910.630.7164 to make an appointment.
General Health Services
Health Services are provided to students by a physician assistant and by a registered nurse. Services are available during clinic hours. The staff of Student Health Services provides presentations to the university community on a variety of wellness issues. The Health Center is located in The Well on the first floor of West Hall and is open on a regular basis during the school year.
Diagnosis and treatment of common medical illnesses, including colds, sore throats, ear aches, stomach upsets, and injuries.
Referrals to specialist and/or clinics and hospitals as needed.
Laboratory facilities are available for routine urine, strep, and pregnancy tests.
Injections are given by the nurse. They include allergy shots, flu vaccine, and Dep shots.
Medications (OTC) are available for the students at no charge.
Transportation needs are the responsibility of the student.
Health education: Promotion of health and wellness and prevention are emphasized.